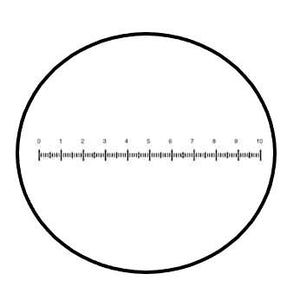 Eyepiece Micrometer Calibration Chart for Nikon Microscopes
EYEPIECE MICROMETER CALIBRATION
Your straight-line 10mm Eyepiece Micrometer (Also known as an eyepiece reticle) looks like this:
Under the naked eye, the length of the ruled distance is 10mm.  As you switch between your objective lenses, the distance between each of the small divisions remains constant on the micrometer but the multiple changes under different magnifications.  
Each small division is equal to the measurement below when your microscope is on the corresponding  objective.
| | | |
| --- | --- | --- |
| Objective Power | Each small Division equals in microns | Each Small Division equals in mm |
| | 100 um | 0.100mm |
| | 50 um | 0.05mm |
| | 25 um | 0.025mm |
| | 10 um | 0.01mm |
| | 5 um | 0.005mm |
| | 2.5um | 0.0025mm |
| | 2um | 0.002mm |
| | 1.67um | 0.00167mm |
| | 1 um | 0.001mm |
---